Disclaimer: This article may contain affiliate links which means we may receive a small commission for purchases made through these links.
South Kingstown, Rhode Island, is the perfect place to position yourself in a pandemic. It's in between the beaches and the city. I love the area because it is quiet and an easy drive to the beaches and Newport.
Where is South Kingstown?
South Kingstown is located in Washington County in Rhode Island and is the most populated town in the county. Perhaps its population is due to its location: close to the beaches and within easy driving distance from other towns as well.

It is home to the University of Rhode Island and the Kingston Train, which provides Amtrack service for the Northeast corridor. This historic station also houses the National Railroad Museum, which hosts tours and numerous events throughout the year of interest to young and old alike. Click here for their schedule.

Whatever your reason for coming to South Kingstown, you'll find everything you need easily accessible — fresh air, farmland, beaches, hiking, or just plain relaxing whether you are looking for fresh air. Music and food are also reasons to visit the area.
Our Journey To South Kingstown
South Kingstown was our second stop on our road trip at the last end of June and early July. If you followed our road trip in previous articles, you know why we ended up in Kingstown. I wrote these articles in preparation for our trip. How To Plan A Road Trip During COVID-19?, The Best Way To Change Your Itinerary During COVID-19, and Why Choose To Visit Mystic, Connecticut During the Pandemic?.
We decided to come to Rhode Island since it is adjacent to Connecticut, and it has a lot of beaches. Kingstown is pretty much in the center of everything, yet, surprisingly, it is not as crowded as Newport, RI.


Arriving South Kingstown
Day 1
We drove from Mystic, Connecticut, arriving in South Kingstown a little after 4:00 pm. It is less than an hour's drive from Mystic.
The check-in at our hotel, Fairfield Inn & Suites by Marriott, was a breeze. It felt like we were the only ones there. The parking lot was almost empty, and every time we left our room, we didn't see anyone except the workers.
The desk person handed us our keys, and we made our way to our room. There is no bellboy to help you with your luggage, which is fine for us since we traveled light this time.
As we rested in our comfy room, we looked for a restaurant where we can eat dinner. I'm glad we were able to get a last-minute reservation at 7:00 pm in Matunuck Oyster Bar. Honestly, it was kind of late as we had to wait for our food, but we managed the waiting part.
It was easy to find the restaurant, and we were able to park in their parking lot just across the bridge and a few steps away from the restaurant. The restaurant's small parking lot was already full.

We had to wait in line when we arrived at the restaurant. Only a few people were dining, but with the practice of social distancing, the tables being 6 feet apart, the restaurant was limited in how many patrons they could serve at one time. The restaurant observed these safety protocols even though there have been few COVID-19 cases in their area. If you are immune-compromised and are worried about COVID-19, you can feel safe in Matunuck Oyster Bar. The customers behaved well, and I was comfortable dining there.
Finally, we got to have good, quality food after our disappointing dining experiences in Mystic, Connecticut. The quality of the food here in Rhode Island is the best, and the prices are similar and even cheaper than the eating establishments we tried in Connecticut.
The ambiance was perfect, and the food was excellent. It made for an ideal family night! We were outside, so we didn't worry about COVID.
Day 2
The kids were so excited to check out one of the nearby beaches. As I mentioned earlier, there are several less than an hour's drive from Fairfield Inn & Suites by Marriott.
Roger Wheeler State Beach is one of the favorite beaches, especially for families with small children. The waves are not that strong compared to other beaches we visited. Keira and I loved it there. I am glad we chose this beach as it is quieter than other beaches in the area.
Morning time
We woke up early to get our free breakfast at the front desk. With the pandemic, the hotel isn't offering its regular fare. It's so quiet down in the lobby area. We were the only ones using the table and chairs. Fairfield Inn & Suites by Marriott didn't offer their usual hot breakfast. It was a to-go breakfast, which Nate was not fond of, but we managed with it on our first day. Breakfast consisted of a variety of muffins plus your choice of water, milk, and orange juice. They also had yogurt and oatmeal bars. We felt safe eating our food in their dining area as nobody was there except us.
Right after we munched our breakfast, we headed to Roger Wheeler Beach, which is about a 20-minute drive away from our accommodations. Workers were still preparing to open when we arrived, as it was still very early. One car was already waiting there when we arrived. We were the second one in line.
When it's time to enter, the attendants scanned our license plate number since we had purchased a season pass to avoid paying each separate time.

It was kind of breezy and cloudy when we arrived at Roger Wheeler, but it didn't stop Kyle from being excited and zipped into the water to play in the waves. I stayed to look after him while Keira and Nate had their father/daughter beach walk together. They both enjoyed seeing different kinds of beach stones and seashells. While I, on the other hand, kept shouting to Kyle not to run too far out into the ocean as he is chasing the waves. LOL!

Nate and I didn't dip in the water as it was too cold for us, but the kids braved the cold and enjoyed it.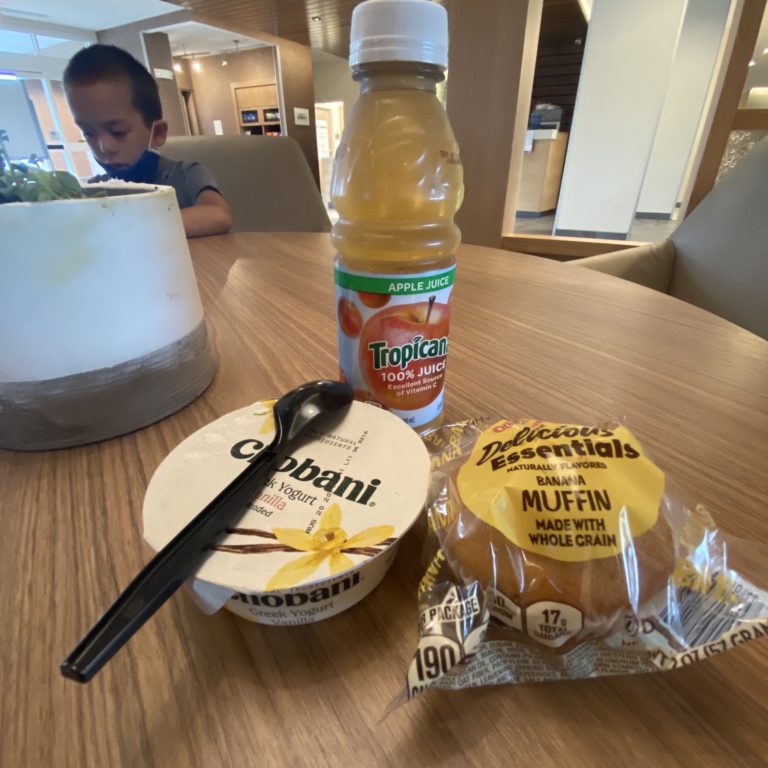 Afternoon Time
Around lunchtime, we decided to drive 48 minutes away from Roger Wheeler State Beach to Chick-fil-A as the kids had been begging for days to go to Chick-fil-A.
When we arrived there, the lines were too long, but the worker asked us if we have the Chick-fil-A app so we can order online and wait in the parking lot instead of being in line for the drive-through. We decided to choose the drive-through since we didn't have the app, and it will take us forever to download it. We then parked at the parking lot and ate in our car. After lunch, we headed to our hotel to rest and enjoy our comfy, nice room.
Night Time
We were all still so full from our lunch we decided to eat whatever leftovers we had in the refrigerator from The Matunuck Oyster Bar and Chick-fil-A. But around 7:00 pm I asked the family to get ready to leave so we can all go and check out a sunset view nearby.
We went to Point Judith Light House in Narragansett, Rhode Island, which is less than 20 minutes from our motel. It was a quick drive. We parked the car in the street and went to the hillside overlooking the ocean. It was a perfect night to go out as it is neither too cold nor too hot. The weather was warm and perfect at that time of day!
Kyle enjoyed hopping from one rock to the other. We enjoyed watching the surfers, too. It's the area where surfers like to go. It's so impressive to watch them ride the big waves.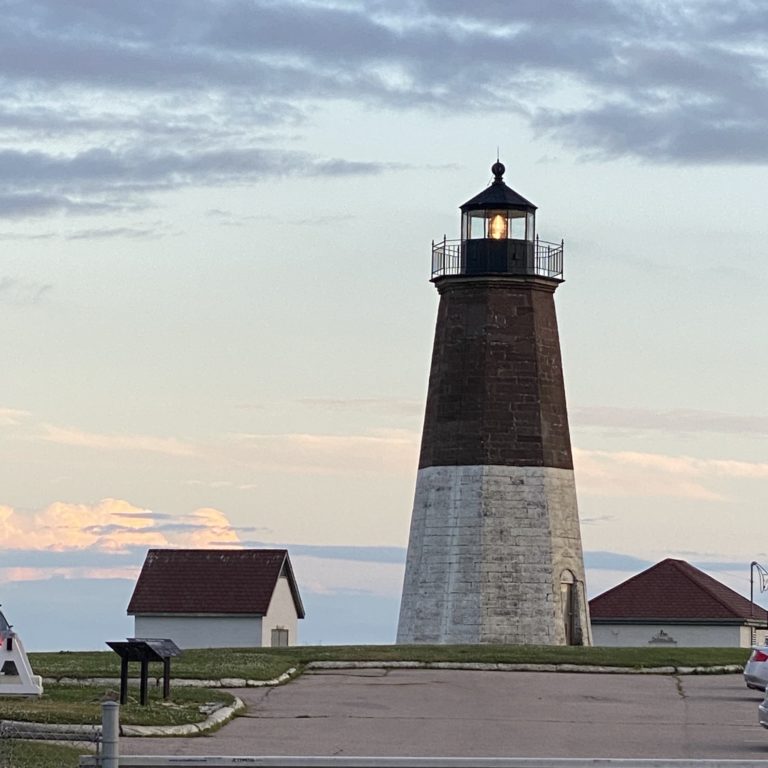 Secret Path
While at the hillside near the gate of Point Judith Light House, I noticed there were people across the street coming out of the tiny path in a swamp. As a newcomer in the area, if I hadn't seen people coming in and out of there, I wouldn't have known that secret path. To satisfy my curiosity, I asked my family if we could go check out that place and see why people were going there. I'm glad Nate, Keira, and Kyle are in the mood for adventure!

Secret Hangouts
When we arrived, we were amazed at how big the area is, but you have to be careful when you're with kids as there are too many big rocks here, and it's not safe for swimming. It was nice to take a picture here with the lighthouse as a background. There was a solo pictorial while the other people continued to walk farther and enjoy the sunset. Nate decided not to go that far as it was getting late and dark. It's rather breezy and cold since we are at the ocean's edge.
In this secret hangout, there is a heart-shaped area constructed of rocks and also a hideout place piled with stones. There are two chairs inside if you want to hide there. Or you can choose to sit on the top of the rocks to watch the waves and sunset. It's adorable and romantic! It's also a great place to hang out with friends or, in Filipino terms, barkadas. Grab chips and drinks, and you all can have lots of fun!
Tips:
Before booking your hotel, make sure to find out ahead of time if they served hot breakfasts or not. If you don't care about hot breakfasts, then you are fine if you do ask before you book.

If you live more than four hours away from Rhode Island, don't get a season pass as it is not worth it. I can understand the desire for less contact during this pandemic time, but the workers do take precautions. Look at the parking lot. If it's full, turn around and do something else.

Concerning the secret path, I don't recommend going here if you are a high risk for COVID. You can't make the social distance as the track is tiny, and you cannot avoid body contact with other passers who are going in the opposite direction as you are.
Day 3
It's our last day! We woke up early to pack and check out before heading to get breakfast outside the hotel. Here is the continuation of our 3rd day South Kingstown, Rhode Island: The Perfect Place To Be (Part2)
Disclaimer: Please check your State rules and laws first before visiting another State to avoid any problems with your travels.