Disclaimer: This article may contain affiliate links which means we may receive a small commission for purchases made through these links.
In life, we enjoy traveling with our friends as they are the ones that we can connect with. They know our strengths and weaknesses and feel like our own family. We can be with ourselves and don't care if they judge us or not. Through travels, it strengthens the relationship of friendship too.
I have many friends, but one of my college close friends is my buddy, and we connect through travel. We traveled together either planned or unplanned. We've been through a lot and learned everything from our trips. Traveling with friends is a great thing to do because you'll know them more in-depth.
Why should we travel with our friends?
Friendship is a type of relationship that bond between two individuals. You'll know your friend deeper throughout the journey.

You know how deep is your relationship is and how your friends feel about you.

It creates long-lasting memories and gave you two a bond that no one can replace it.

When you wanted to get away with the crowd and wanted to travel somewhere, you know who to call and be with you.

You know that you're safe being with them in case trouble comes along the road.
We have traveled together through our college tours, major or minor subjects in tourism and we also make an unplanned trip together. It was a fan of memories in our younger years, but of course, we won't be forever single. It's crazy how far you are from your friends and sees them after five years after and the friendship is still there but of course, it will have a slight difference as we can't be forever available as we have our own family to attend.
Every time I go back home, I always try to spend time with them alone. I always ask for a date night and ask them to tell their husband I am not always around, so I have to borrow them. Lol. Despite how busy the schedules are, we still try to have time together even just one time for a month of visit. I was there for many months, and I honestly see some of my friends three times or 2 times only. I know it sucks! If only the businesses in Cebu and the traffic is better, it won't be hard to meet up. But with kids in tow, it's impossible.
It is my dream to go to Hongkong since then I love to see the country know the people, taste some of their local foods and know their history. But my daughter also dreams of going to Disneyland so I ask my best friend if she likes to do the same, tag along with her eldest daughter so we can bond with our kids too. When you're close, you wanted to have your kids the same connection as you both have. But you can't force the kids to have the same relationship, especially if they don't see each other often.
Why traveling with your kids and your friends' kids is a test of friendship?
You're a parent, and you know kids have their ways you'll never know what each kid will do.

Do you know how siblings fight? If someone has particular stuff, the other one has to have one. Yes, it happens.

When you travel, and your kids don't know each other much and or never been into a playdate, it is hard to be in between with the two.

The jealousy is rampant, and it is so hard to handle sometimes, to be honest, I almost give up!

Yes, it is a test of friendship when you travel with your kids even of the same age as the younger age group tends to be jealous all the time.
What to do when your kids don't get along that much?!
One thing my friend and I are proud of we both know the boundaries! She knows how to handle her kid, and I discipline mine.

If they need to share some stuff, we let them share or else they won't get anything.

One time, we got tired of them, and we both want to have fun without the two bickerings all the time! Yes, have fun, but our kids are like cats and dogs. We rented a two-bedroom motel so we put them together in one room and told them it's up to them to make their life and the trip miserable because we will never be like them we have to have fun! Hahaha, we enjoyed talking in the other room while the two have their silence, and in the end, it works! Lol
Hongkong is a perfect place to go with friends and kids getaway as there are so many things to do and see around. You can form great memories with your friends and together with your kids. Our itineraries go like this.
Our DIY Itinerary:
We traveled from the Philippines to Hongkong and spent a total of 4 days in the country with our girls. We made it a slow trip as my best friend is two months pregnant at that time.
Day 1
We arrived early from the airport, and we got picked up of our van rental as I made sure to rent one, especially we are with small kids plus my friend is pregnant. I don't like to haul our pieces of luggage and the girls around in a bus.

Check- into our guest house Golden Crown Guest House is smooth, and we made sure to take a rest before heading to Sky 100 Observation Deck to see the view of Hongkong City.
After checking the observation deck, we then went to the Causeway Bay area in Hongkong where luxury stores and hotels are.
As we made our way home, we went to the Tsim Sha Tsui area along the Victoria Harbour to walk around and see the Chinese modeled Hollywood Walk Of Fame, Avenue of Stars and watch the Symphony of lights. It was magical to watch with the kids, and it is free, which is a bonus. Walking back to our hotel is a breeze as it is within walking distance.
Day 2
We spent our time all day in Disneyland it was magical and a great experienced for us. We got to spend it all together, and sometimes we split our way with our girls if the girls will ask something to check back again.

We're one of the first people to arrive in Disneyland and were also one of the people who took the last trip going back home. We arrived very late, but it's all worth it.
Day 3
On our 3rd day, we spent our day in Ocean Park. It's another attraction in Hongkong that you can go and visit bond with your friends and little one. We enjoyed and have fun until the rain drips and made us wet.

My daughter went to see the aquarium and walking around the Ocean Park barefoot as she doesn't enjoy walking with her wet shoes. I bought Keira a flip flop, but wow the price cost an arm and a leg for that simple flipflops.

When you come here, the cable car is magical, and it's a great way to see around the park. So, try your best to ride it as I know the park can be too big.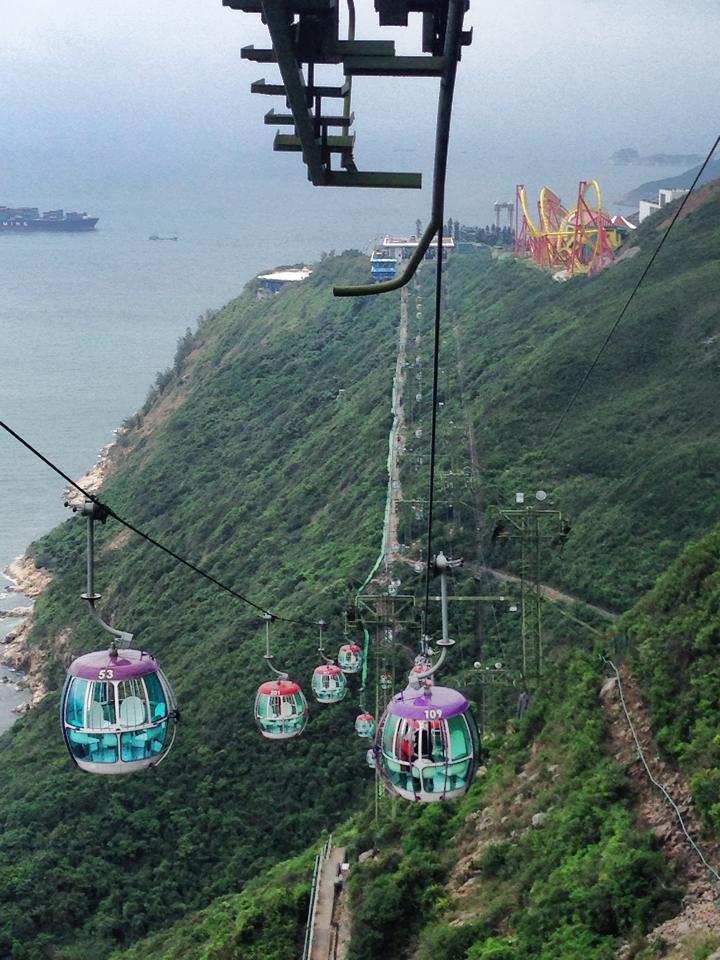 Day 4
We ate breakfast in Mc Donalds as it is nearby where we stayed. Then, head to the airport early to catch our flight. We rode the bus this time, and it is straightforward. The bus stop is right across from our motel and straight to the airport. So if you're on a budget riding a bus in Hongkong is an excellent way to go.
Summary:
The best time to visit in Hongkong is around the month of May as the weather is perfect to roam around the country and the plane ticket from the Philippines is reasonable during this month. Three full days visiting the country is enough to cover some of the major attractions but I suggest if your budget can make it to Macau for a day please do so it's another country you can add in your bucket list that is nearby Hongkong.
Important Tips:
Staying in Golden Crown Guest House is the best we've done in our visit it is cheap, but the room is clean and location wise. They sell tickets, and they sold the cheapest tickets among everyone. If you like to save, then going here is your best bet.

Most kids don't like the idea of trying new food, especially between the age of 3-7 years old. So we always ended up eating where the kids want to eat.

The water bottle and food in Disneyland can be expensive as we have small kids with us plus my friend is pregnant we can't afford to spend much eating inside Disneyland for our snacks and meals all day. We made sure to put some water bottles in our bags and some biscuits that we can all munch while we were there.