Virginia Beach: How To Spend Quality Time With Your Family
Disclaimer: This article may contain affiliate links which means we may receive a small commission for purchases made through these links.
Virginia Beach is 9 hours and 41 minutes away from Rochester, New York. It is a long drive from where we live, but I'm glad we managed to make it the last leg of our road trip. The beach was the second highlight of our trip after Washington DC.

Sunday

We arrived in Chesapeake, Virginia, at around 9:00 pm. We were ready for bed once we arrived at our Air BNB.

Monday

10:00 am – 3: 00 pm
We headed to the beach and arrived around 10:00 am after we ate our breakfast at a Waffle House near the rental mansion.
Even though it's Monday, the beach was full of people. It was sunny and a perfect day for families to play in the sand and enjoy the beach. We decided to rent a big umbrella for $25. (If only we had known we could buy an umbrella from a nearby vendor for $15!) Oh well, now that you're reading this, you learned you can bring your umbrella or buy one cheaper than renting one.

It was a funfilled day with the kids, especially for Kyle. He enjoys the waves, and to be honest, I don't think he was out of the water for more than an hour. He only left the water for a drink or snacks.
Nate and I took turns to be with the kids as it is too hot in the sun for us. Keira and Kyle didn't mind the heat as they enjoyed the beach. Aside from catching the waves, they enjoyed playing in the sand and trying to make a cave for the water to wash into.
4:00 pm- 8:00 pm
At around 4:00 pm we decided to leave the beach as we were starving and wanted to check out other nearby areas. We walked along the road where there are lots of restaurants, store vendors, and family activities to choose from. If you wanted to explore other activities here besides playing at the beach, there are lots of options.
We stumbled onto a Turkish restaurant and we did enjoy their food. After our late lunch/early dinner, we continued walking down the pathways until we are at Virginia Legends Walk in 13th Street. It is about the people who are born in Virginia and or live in Virginia longer that makes a difference in the country and into the world.
Some of the prominent people who are included in the lists are:
General Douglas Mac Arthur is known for saying to the Filipino people " I Shall Return!".
Thomas Jefferson who founded the University of Virginia and an author of separation of church and states. He also serves the country for two consecutive times.
My favorite one in the United States is George Washington who led the Army to stop the rebellion in the York town and maintain the freedom that they get from Great Britain. He's known to be the Father Of The United States. If you wanted to read more about it click here.
We read some information about the legendary men and rested for a bit as they have some benches in the front near the road. Then on the way back to 21st Street, we decided to cross and walk along the sidewalks nearby the hotels.
It was a lovely walk and enjoyable. We saw people playing music in the alley and an older man riding his bike while a piece of music played. It was a lovely walk even though we were pretty tired.
We made it back to our parking area before 8:00 pm as our free parking was only until 8:00 pm. As we headed home, we decided to buy some groceries at a nearby Aldis. That way we can save money for snacks, drinks and eat our healthy breakfast without breaking the bank.
Note: The hotel right across here is where we like to stay. It's the most beautiful hotel we've ever seen among the others. There is a pool outside that you can enjoy overlooking the beach and some flowers on their fence.
Tuesday

8:00 am- 1:00 pm
This is our second-day spending time in Virginia and we decided to enjoy the big pool at the mansion. My original plan was to rest during the day so that we could be out late and check out the nighttime activities at the beach. But it didn't go as we planned it because of the weather.
2:00 pm- 8:00 pm
We left the mansion around 2:00 pm and decided to park on 16th Street this time. One of my goals was to find the statue of King Neptune, but I went the wrong direction. We were walking along the strip until we felt hungry and started looking for a place to eat. We stumbled on to Chix On The Beach restaurant and we were glad we made that walk. It was a great find, and we will surely eat there again if we are in town.
After eating, we noticed the clouds were starting to get dark, so we decided to walk back to find an indoor play area for the family to enjoy. Nate and the kids enjoyed it there. By the time we left to go home, it was raining.
As always, we arrived right around 9:00 pm and we were all so tired and ready for bed. I accidentally locked the door that I was not supposed to close. I was glad the owner was still awake. She grabbed her key and open our room. Otherwise, we would have ended up sleeping in the car! Lol
Wednesday

5:30- 6:30 am
I woke up at 5:30 am to start packing our things while the rest of the family were still asleep. Around 6:30 am I started waking up everyone so we could head to the beach by sunrise. We ate our breakfast before leaving the mansion.
7:00 am- 8:00 am
On our way to Virginia Beach from Chesapeake, Virginia, my husband noticed Duck Donuts on the map. I asked him to stop by so I can check it out if it's really the same one Keira and I love from Duck, North Carolina. Trust me, it took a lot of convincing, lol, but I'm glad hubby still let us get inside the store. My daughter and I smiled up to our ears the moment we went in and confirmed that it is the donuts we've been longing to have for almost two years. Yeah, lucky!
I ended up buying a dozen donuts to get all the different flavors we like and we ate them on the way to the beach. Hubby didn't like the idea, but we don't get Duck Donuts every day. Lol
8:00 am- 12:00 noon
Arriving at the beach at around 8:00 am was the best thing we did on our last day. To be honest, I wish we lived close enough to a beach to stroll often. I love staring at the beach right after I wake up, but the mansion we stayed at is forty-five minutes away from Virginia Beach.

It's a lovely, quiet morning with less than ten people on the beach when we arrived. We went back to the 16th Street area as I love having a play area for the kids to enjoy. There was a Chess table on the beach and a few nets for playing volleyball. We didn't know they take down the games at night so when we arrived they were not set up yet. After we claimed our spot on the beach and took some pictures, I decided to wander off alone and look for the statue of King Neptune. My mother was tired of walking from the many days of our travel and my hubby and kids were too lazy to come (although they ended up walking along the beach by themselves Lol)
The best thing we did on our trip is to arrive here very early to beat the crowds. My family enjoyed walking on the beach while I enjoyed running along the water, and mama enjoyed burying herself in the sand. Throwing a football with the kids, chasing the birds, writing on the sand and digging the sand out to make a well for the water to get into made it a perfect family time. Right around noon, we decided to head out and rinse ourselves in the free showers or faucet you can find along the street.

12:00 Noon
After we got in the car, we researched where exactly this King Neptune is located. Lol, I'm glad we're driving as it is quite a walking distance. The statue is located between 30th and 31st street. On this street, you can't find a free parking zone, like the one we did on 21st and 16th Street. We paid two dollars here per hour for parking.
Finally, it's easy to find the King Neptune statue from the street. It seems that this area is where people love to stay and go as I saw more people here compared to where we were on 16th Street. We took some pictures, read a little, and then headed out!
1:00 pm- 3:30 pm
Maybe you're wondering why we didn't go to a store this day. That's because we're eating the groceries that we bought on our second night here. We're munching in the car on our way to Virginia Aquarium. It doesn't take long to get here from the beach. We spent a total of two hours and thirty minutes at the aquarium. The kids didn't want to leave, especially Kyle, as he enjoyed touching the stingrays and putting his hands in the water. The museum exhibit is great for the kids. Mama and I stayed longer in a place where it explains interesting facts about Virginia Beach as a whole and what you can find in the area. The time we spent here wasn't long enough. Maybe an hour more would be better for the money we paid. We paid a total of $100 plus for two kids and three adults.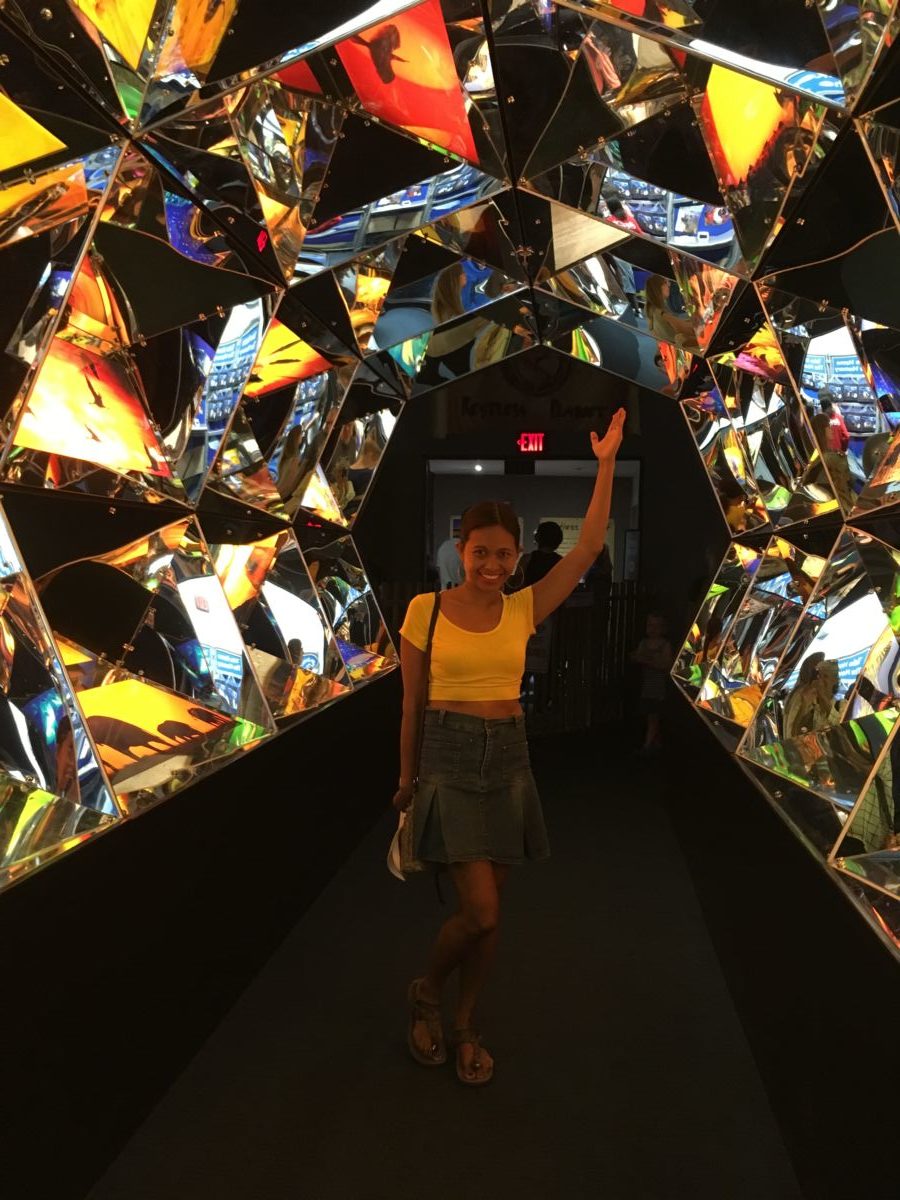 Where to Park?
There are lots of options for parking but if you are like us and not staying in the beach area you can try to find free parking between 16th and 21st Street. It is two blocks away from the hotel zone. They will let you park during the day time up to 8:00 pm. After that, they can tow your car.

Parking one block away from the Hotel Zone is also available but more expensive.

Another option if you are planning to stay less than three hours: you can park right across the street two blocks away from the hotel zone and pay $2 per hour.

Whatever works for you but make sure you read all the rules and laws to avoid putting your car in a bad position.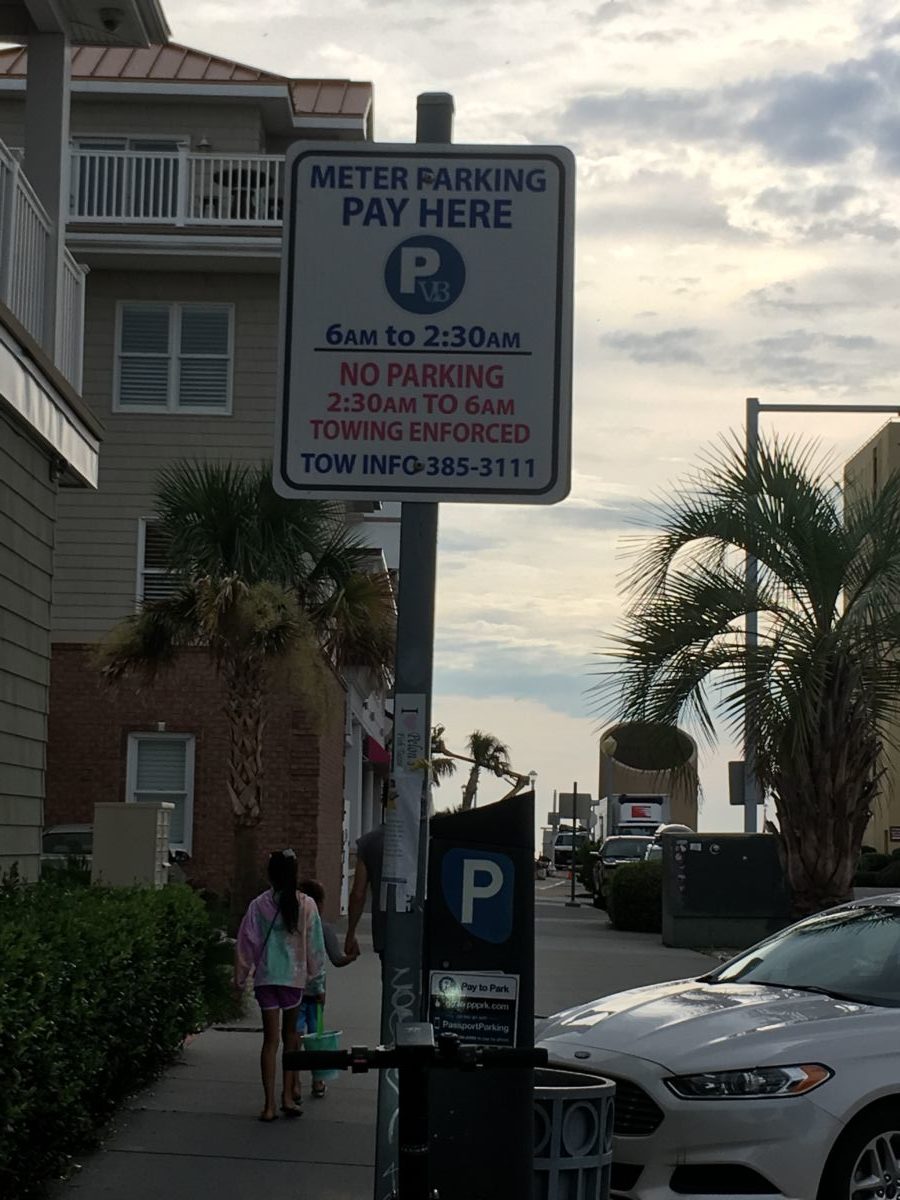 Why on 16th Street?
It is not that crowded compared to other streets but still so many people.

There are a couple of nets if you enjoy playing volleyball but make sure to bring your own ball.

There are slides and monkey bars for small kids to enjoy.

Do you enjoy playing chess? Yes, they have it there, too.

Right when you enter there is a free shower or faucet where you can wash the sand off from your body.

You can walk to 21st Street where the pier is and or have fun right at Atlantic Fun Park.

Are you in love with Street Art? Then, go between 16th and 17th Street. That's where you can find them. There is a restaurant or music place there, too.
Why on 31st Street?
King Neptune statue can be found.

Can you believe they have Duck Donuts here, too? Yes, another place for Duck Donuts.

Starbucks is beside Duck Donuts. For those who love Starbucks.

Most people come here and it seems this area is more central and more crowded compared to the other one.

They have a kids play area too for younger kids to slide and do their monkey bars.
Summary:
Virginia Beach has a lot to offer to families. There are many activities to enjoy around the beach that don't require you to spend a lot of money to enjoy. Playing in the beach area alone is worth the trip. Please book in advance especially if the quality of your stay is important to you. If your main purpose in visiting here is the beach, staying on the beachfront with breakfast included, refrigerator, microwave, and stove can make the costs of your high price hotel worth it. The beach can keep your kids busy all day and it is worth your time and money.
Click the following if you would like to read more about our trip this summer.
Disclaimer: Some links in this article are affiliate links, which means that if you purchase through them, I receive a small commission at no extra cost to you. This helps cover the cost of running this blog. Thanks for your support!