Road Trippin: Pennsylvania, Washington DC and Virginia
Disclaimer: This article may contain affiliate links which means we may receive a small commission for purchases made through these links.
Road Trippin in three different states' and the primary purpose of our trip is to Washington, DC, for my daughter to sing and play her guitar at the Kennedy Center. Keira had this opportunity by taking music lessons at the Rochester Academy Of Music and Arts. Each year the Academy makes arrangements for their students to perform at high-class venues to give them performance practice.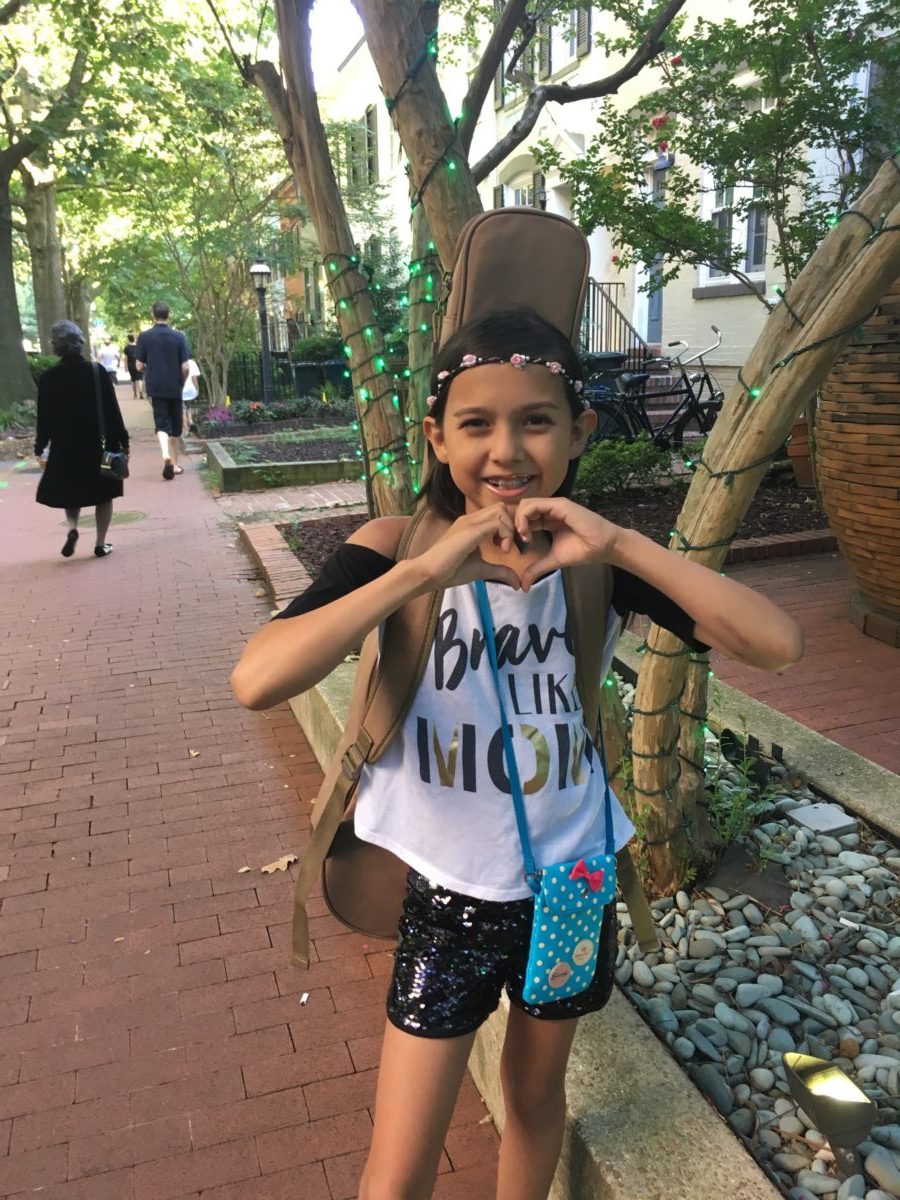 As the event drew nearer, my daughter and son kept begging me to take them to the ocean nearby. In previous years, we drove to Outer Banks, North Carolina, to enjoy the sea. Even though I love Outer Banks, it would not be an option on this trip. It would be too expensive and too far away from Washington, DC.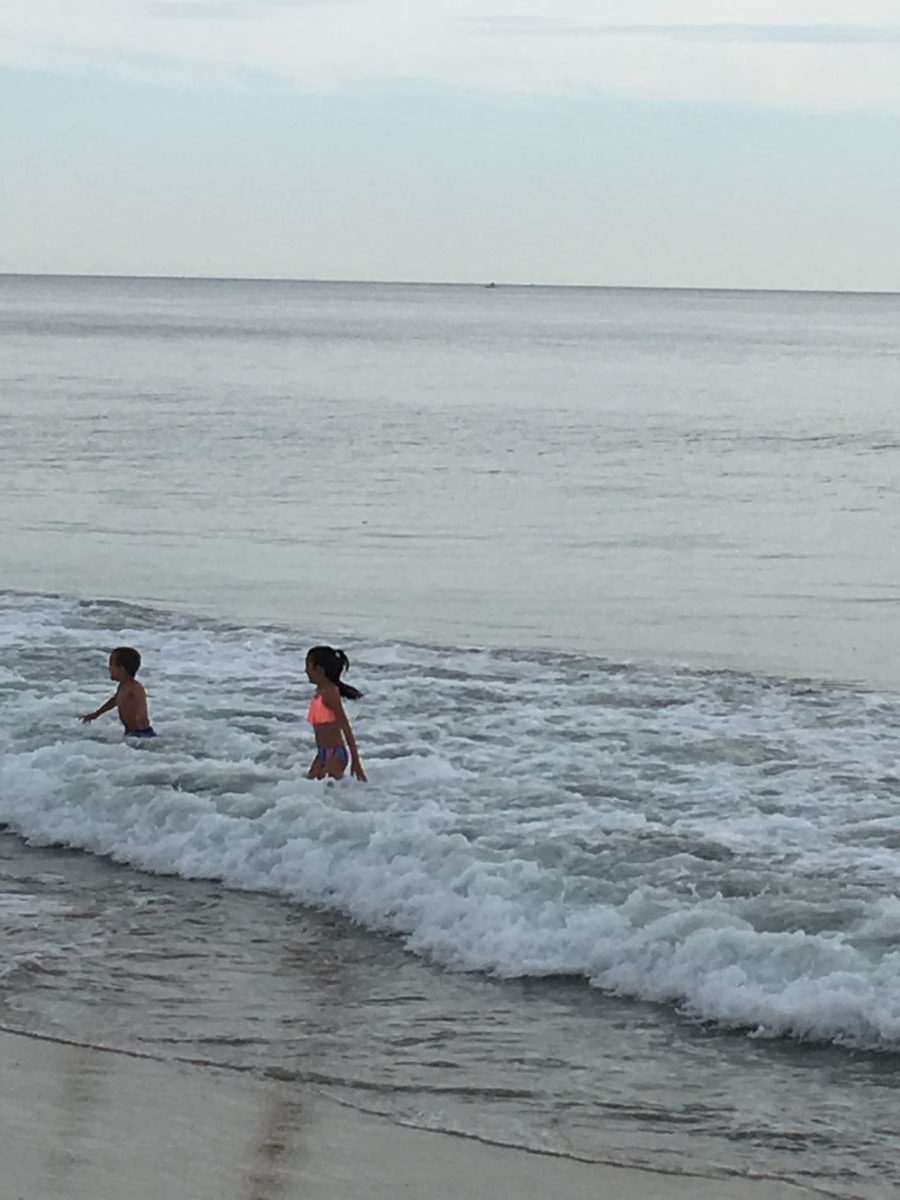 Virginia Beach came to mind as an alternative beach location. I remember passing by there the last time we went to North Carolina. I checked the prices of hotels in Virginia Beach — $150-$200 per night. And they had terrible reviews! I went to Air BnB and with careful research, I found The Maxwell Mansion where they rent a one-bedroom with two queen size beds. It was $80 per night — in my price range for this trip — so I reserved it.
Then we learned that my sister bought my mother a plane ticket to fly here from the Philippines for a visit. I asked my hubby if we could bring my mom with us so she can see her granddaughter perform and spend time with our family. Our plan to drive directly from Rochester, New York to Washington, DC, changed. Instead, we left a day early and slept at my sister's house.
Final One Week Itinerary For Our Road Trip 2019
Friday ( Rochester, New York- Pocono Mountains in Pennsylvania )
We left the house at 5:00 pm on Friday as it is a 4-hour drive to my sister's house. We made a quick stop at McDonald's to use the restroom and get gas at the adjacent gas station. It was a smooth ride to PA, and the kids couldn't wait to see their cousins again. We arrived at 9: 02 pm, and to our surprise, my nephews were still awake. I always love seeing their happy, welcoming faces every time we come to visit. While the kids were having fun, I was busy eating Filipino foods and enjoyed looking at all my gift (Pasalubong) from my Tita and Mama from the Philippines. My sister, mama, and I stayed up 'til midnight!
Saturday ( Fairfax, Virginia and Washington, DC )
We woke up early on Saturday morning, but we didn't leave until 8: 30 am so the kids had a little more time to play. Then we drove 4 hours plus from the Pocono Mountains in Pennsylvania to Fairfax, Virginia. We met Nate's brother and his family for lunch at a Mexican restaurant in Fairfax. After our stopover, we drove the 30 minutes to Washington, DC. To my surprise, there was no traffic on that Saturday. Checking-in to our hotel was easy peasy. As a budget-conscious traveler, I look for quality accommodations at a reasonable price. The River Inn met my criteria in both respects. We were happy to stay there.
We arrived in our room at 4:00 pm. Being tired from our fun time in Fairfax, Virginia we decided to rest and lay down for a bit before heading to Kennedy Center to watch the show and see my daughter perform "We Know The Way" from the movie, "Moana."
The clock ticks faster, and it feels like we never rested. The next thing we know it's already time to prepare and go to the Kennedy Center. The show went so well, but I had to ask my hubby to go back to our hotel at 9:00 pm because our son was so tired and sleepy. If you have younger kids, who aren't excited to attend an event like this be warned that this can happen. My mama and I stayed until the very end of the show, and she, Keira, and I walked back to our hotel with no problem. It took us 10 minutes to walk from Kennedy Center to The River Inn.
Sunday ( Smithsonian Zoo Washington, DC and Virginia )
Our initial plan for this day was to visit the zoo with some friends, but they canceled at the last minute because their kids were sickly. We proceeded with our plan, however, and were happy that Nate's brother and his family were able to join us. Our kids had another chance to see their baby cousin.
We woke up early Sunday morning and arrived at the zoo at 10:00 am. I'm glad we parked in the C section of the parking lot. It's in the middle of the parking lot. That handy because whichever side of the zoo you end up on, the top or the bottom, you don't have to walk far to your car.
The zoo opens at 9:45 am for their meet and greet, and their shows start at 10:00 am. Our goal was to make it to the Dinosaur Show for my son to enjoy it. I made my hubby and kids hurry ahead to be sure they could make it to the show on time while I walked with my mama at her own pace. We all did enjoy the zoo and left at around 4:00 pm.
It was a 4-hour drive from Washington, DC to Chesapeake, Virginia, and The Maxwell Mansion. John, our host, opened the door, welcoming us into the main foyer of the mansion. He told us the rules of the Mansion–what areas were open to us and what areas were private. It was pretty straightforward and easy. Then we headed to bed as we were tired and sleepy after our long drive.
Monday ( Virginia Beach )
Morning
We woke up early and found a place called Waffle House, a 3-minute drive from the Mansion. The prices are great! We paid a total of $21 for all our food. The quality is okay. For that reason, Waffle House is not a place where I would always want to come back to, but if you're on a budget and not picky about your food, I think you will be satisfied here.
The drive from the Mansion to the beach took us 35- 40 minutes without traffic. If the main highlight of your trip is to spend time on the beach then it is more practical to stay at the beach area than driving here. There are lots of things to do near Chesapeake, Virginia and if that what you're interested to do then staying here at the mansion would be better.
We arrived at Virginia Beach at 10:00 am, and it was already scorching hot. We rented an umbrella for $15 so we wouldn't be directly under the sun and can get some shade to rest. The kids enjoyed the beach all day. They played football and tried to catch the waves from morning until we left. It was the best day ever for the kids.
I did not expect the beach to be so crowded on a Monday, but of course, it is summer, and Virginia Beach is a tourist area, so I suppose crowds are to be expected. I love it here, glad that everyone cleaned up after themselves. The fact that the surroundings were so clean made the crowded conditions tolerable.
Afternoon
We left the beach around 4: 00 pm as we were starving. We stumbled onto the Mosaic Cafe. It's Turkish cuisine, and we did enjoy our food. We ordered a pina colada, pineapple mango juice, a round of pizza, a shrimp from their appetizer and chicken with rice. We left the place full and even brought home a few leftovers.
We continued roaming around the area, finding some souvenirs, before heading back to the Mansion.
Tuesday ( Mansion and Virginia Beach )
I purposely allocated this day to stay at the Mansion for the kids to enjoy the pool. The Mansion has a big pool and many pool toys to choose from. We left the place at around 3: 00 pm so we could enjoy the beach area when it wouldn't be too hot for us to roam around the boardwalk.
We walked from 16th Street to 5th Street until we were again starving and found the Chix On The Beach Restaurant. It's a great restaurant to go to when you are in this area. I highly recommend this restaurant. The price is reasonable, and the quality of the food is top-notch.
I planned to stay at the boardwalk so we could enjoy the nightlife and find something family-oriented, but the weather did not cooperate. We ended our night at a game place where the kids enjoyed the video games and hubby got to play his guitar hero, basketball, jackpot, and so much more. Around 8:00 pm, the rain started to pour and we headed home.
Note: Walking the boardwalk at around this time is a perfect time to do so as it is hot but not too hot as the sun is going down.
Wednesday ( Virginia Beach, Aquarium, Washington, DC )
Morning
Arriving at the beach at around 8:10 am was the best thing we did. We wanted to catch the sunrise and were worried that we would miss it. Instead, we arrived at the perfect time as the sun came out at almost 9: 00 am.
There were people on the beach before us, but the beach was still quiet and relaxing. My family was able to play catch with the football and walk around the beach area. While hubby and kids did that, I tried to find Neptune Park. I was eager to jog it with my swimsuit on, and my family was too lazy to walk 34 minutes each way. But my phone maps could not give me correct directions. I kept running from one course to another, so after feeling stupid, I decided to drive to the place instead after we swim. Lol!
We caught the waves together as a family holding each other's hands as we jumped from one stream to another. The kids' laughter was priceless. All of us enjoyed this so much, even though the water was colder than we expected. At noon we left the swimming area and headed to Neptune Park to see the King Neptune landmark. We were happy that we made this quick trip from 16th Street to 31st Street. It was only a 7-minute drive. Then we discovered that there is a Duck Donuts in the area. If you're wondering what it is, it's a donut that is famous in Duck, North Carolina. My daughter and I are crazy about Duck Donuts. They are the best donuts we've ever eaten. You can watch them cook the donuts right in front of you get to choose what flavor you want for your toppings.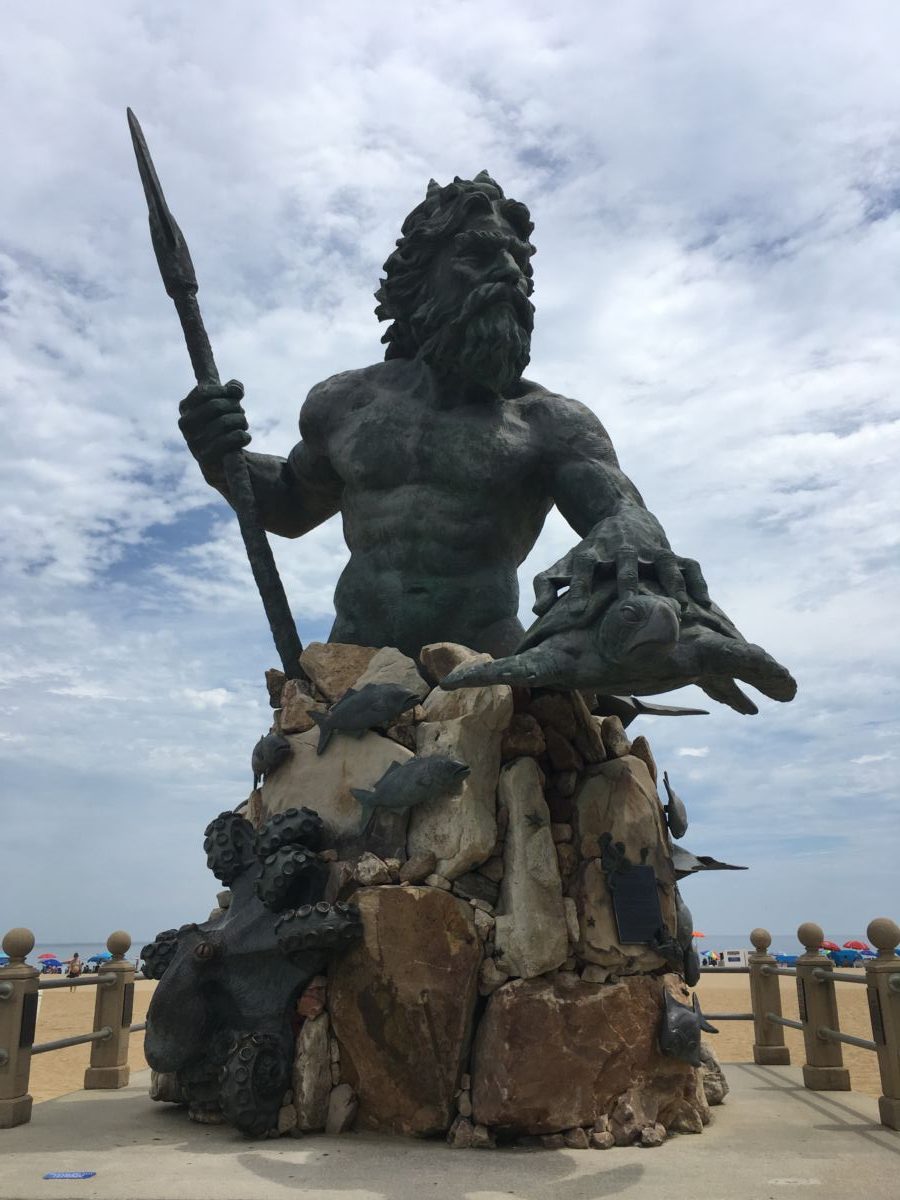 Afternoon
We spent from 12:30 pm to 3:30 pm at the Virginia Aquarium and Marine Science Center. I let the kids pick which one they wanted to do first. The buildings were clean, and the displays are hands-on for everyone. Kyle loved touching the stingrays, watching the snakes crawl and having eye to eye contact with the alligator! Lol! This animal encounter is not the first time Kyle's had a close encounter with a wild animal. When we were on a safari in Cebu, Philippines a tiger followed Kyle. That was cool and sweet but honestly, also scary. Ha, ha!
We arrived back at The River Inn in Washington, DC, at around 7: 30 pm. To our surprise, our reservation had been upgraded to a Suite room. It had two queen beds in the bedroom, a couch that could unfold into a queen bed, and a dining table and chairs. It was comfier than the regular room we stayed in last Saturday.
Thursday
Morning
The highlight of our day was to see the White House. The kids, especially Kyle, was always asking where the President lives. We tried to include a visit to the White House in our itinerary two years ago, but the weather was too stormy that time to walk that far. I'm glad this time we had good weather.
We managed to find a parking spot right in front of the Washington Monument, and we walked to the White House. After our visit, we drove outside the city and ate at Chipotle for lunch before heading to our next adventure.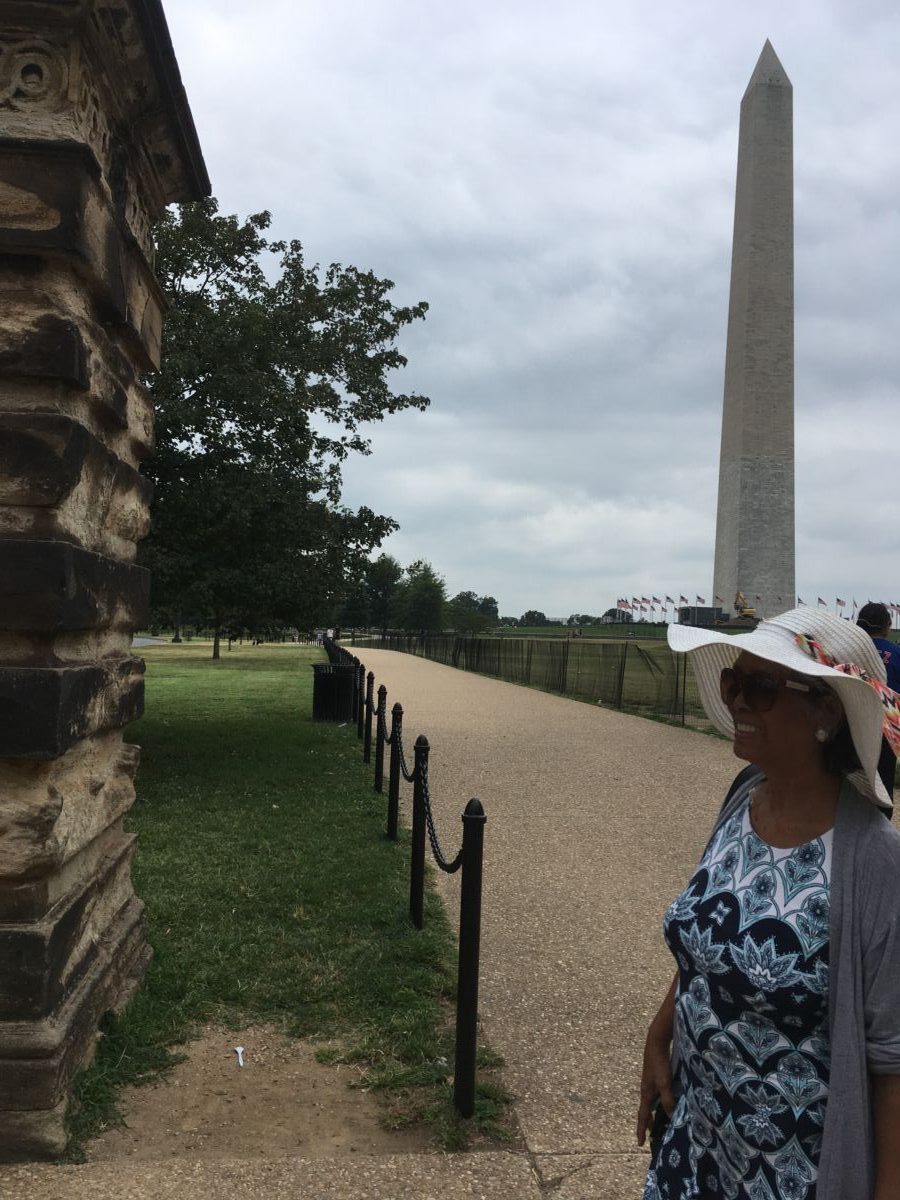 Before driving to George Washington's house in Mount Vernon, Nate went to their website to check for the ticket prices. He noticed a promo box and searched for a promo code online. Nate's find gave us almost 40% off the original ticket price.
Afternoon
We arrived at George Washington's estate at 12:30 pm. Our tour was scheduled for 1:30 pm. so we were able to spend some time looking for souvenir section and bought our souvenirs ahead of our tour around the mansion. We spent a total of 3 hours here. For me, that was not enough time. I recommend allocating at least a day as there is so much to learn and see. It is worth your time. George Washington was a great person and leader.
We left Mount Vernon at 4:00 pm and arrived at my sister's place at 9:02 pm. Our ride back to Pennsylvania was enjoyable. We got to see a new, long bridge in Virginia, get gas in Delaware and pass through a tunnel in Philadelphia. It's fun to be on a new route and journey through two States and one District.
Friday
Yippee, it's a rest day! We just stayed at my sister's house, enjoying our time as a family. My daughter grabbed the opportunity to bake a cake for her cousin as we won't be able to celebrate his birthday with them. The three older kids enjoyed mixing the batter with Keira and baking it together. They had fun and the birthday boy was so proud that he was able to do it.
Saturday
The kids played while we were packing and preparing to go home. We then all drove to a bowling place 45 minutes away from my sister's house. It's like a stopover for us since the route is on the way to Rochester, New York.
The bowling place is enormous. It can accommodate a lot of players, and the area is clean. We got a lower price. Our two families ended up paying $24 each for our families of four. That included the entrance fee, shoe rentals, a pitcher of soda, a box of pizza, and two bowling games.
This was our first time to get out as a family together with our mama here in the US. I think it's the best trip we've had since we were children!
Our Stops
Fairfax, Virginia

Washington, DC

Chesapeake, Virginia

Virginia Beach

Mount Vernon, Virginia

Pocono Mountains in Pennsylvania
As you noticed, we did 4-hour rides in between destinations — Rochester, New York- Tobyhanna Pennsylvania, Pennsylvania- Washington, DC, Washington DC- Chesapeake, Virginia and vice versa. It was a fun and relaxing trip for the kids. I learned it makes a big difference in traveling as a family if the kids enjoy the trip. There's a lot of benefit in doing this kind of trip. We had a relaxing journey and also experienced a lot of places. It was a win-win trip for everyone in the family.
Other Articles From Our Summer Road Trip 2019
Disclaimer: Some links in this article are affiliate links, which means that if you purchase through them, I receive a small commission at no extra cost to you. This helps cover the cost of running this blog. Thanks for your support!