Smithsonian Zoo In Washington DC " How To Maximize Your Time Here? "
Disclaimer: This article may contain affiliate links which means we may receive a small commission for purchases made through these links.
The Smithsonian Zoo was the second-best highlight of our trip to Washington, DC. These 163 acres are home for exotic animals and do not disappoint. If you choose to visit the zoo, I suggest allocating an entire day as there are many things to do and see as a family, especially if you have young children. You can stay until closing time if you do not need to drive a distance to your next destination.

We arrived at the zoo at 10:00 am sharp which meant we were already late for the Dinosaur show. I'm glad we parked in the C parking lot as that made it easier and faster to walk up to the central area of the zoo.
On our way to the show, we saw an orangutan climbing a rope from one point to another. It was my first time seeing one and to be honest, he was interesting to watch. We passed by a giant dinosaur and small ones that are battery operated and made dinosaur sounds. If you have a dinosaur lover in your home, this is a perfect zoo to visit.
I let my hubby bring the kids with him so they could run ahead and make it to the dinosaur show. My mother and I walked to accommodate her slower pace. My mother and I arrived late and were able to watch a little bit of it thanks to the workers who let us in at the back.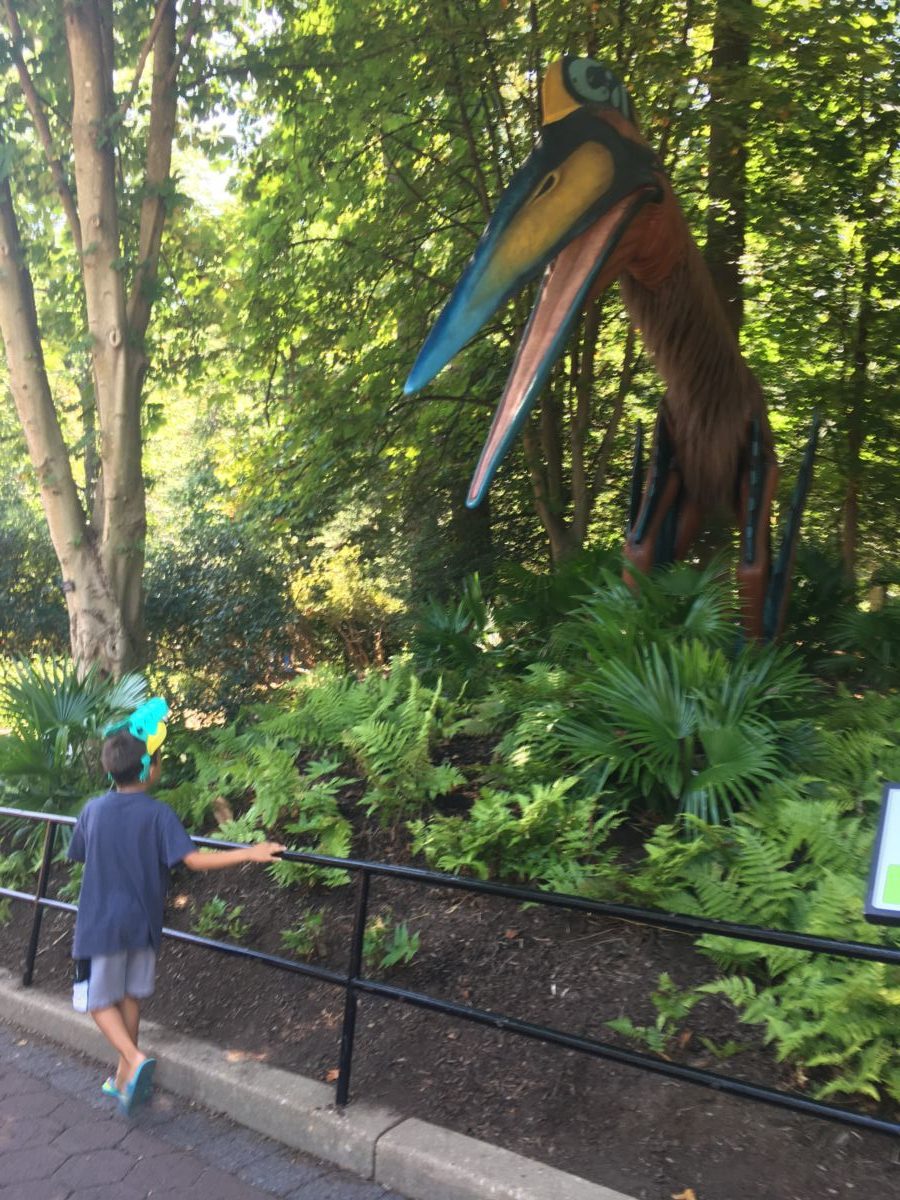 Dinosaur Show
The show is excellent. There were babies, toddlers, and kids in attendance. The show is geared for children up to 8 years of age but even my daughter who is eleven enjoyed the show. It is fun and interactive for kids. The presenters asked for kid volunteers and told stories about dinosaurs. The excitement on the kids' faces was lovely to see. The dinosaur show costs $10. There are other shows available if you don't like the dinosaur show. The zoo changes the schedule of shows from time to time, so you should check the schedule in advance. For more information, go here.
Since we were already at the top at the main entrance, we decided to work our way around that area on the way to the bottom so we wouldn't be walking back and forth. Right after the dinosaur show, we went to the Asia Trail and headed to the panda bear that my daughter been dreaming of seeing during our visit. Unfortunately, it was not time for the panda to be out yet. As we strolled along trying to find our extended family members, we got to this spot where there is a shady play area for small kids. My seven-year-old enjoyed it there, but my eleven-year-old daughter didn't bother to check it out or play there. Then we headed to the Elephant Trails. It's nice the area is bigger as the elephants have ample space to run and walk around.
Lunch
When we finally united with our extended family members, we were in the middle area of the zoo where you can find the Souvenir store and a lot of food store vendors. That was ideal as it was noon and we were starving. My husband ordered a couple of pizzas and sodas. The waiting line wasn't bad and they were able to eat before me because I ordered ham crepes and strawberry Nutella crepes for dessert plus strawberry juice. There was no available table and chairs so we sat on the brick wall near the pathways to eat our lunch. We all enjoyed our lunch and brought home leftovers to eat for our next meal.
While we were eating and enjoying our chitchats, Kyle went to the center area of the food court where there are lots of birds. He enjoys looking at them and chasing them. We then checked out the Souvenir store and bought the kids some souvenirs to bring home from our trip. Not long after that their cousin has to say goodbye. and we continued to wander around.
We returned to the panda bear enclosure and watched him eat his lunch. It was fun! The kids enjoyed watching the panda bear eat and wander around his home.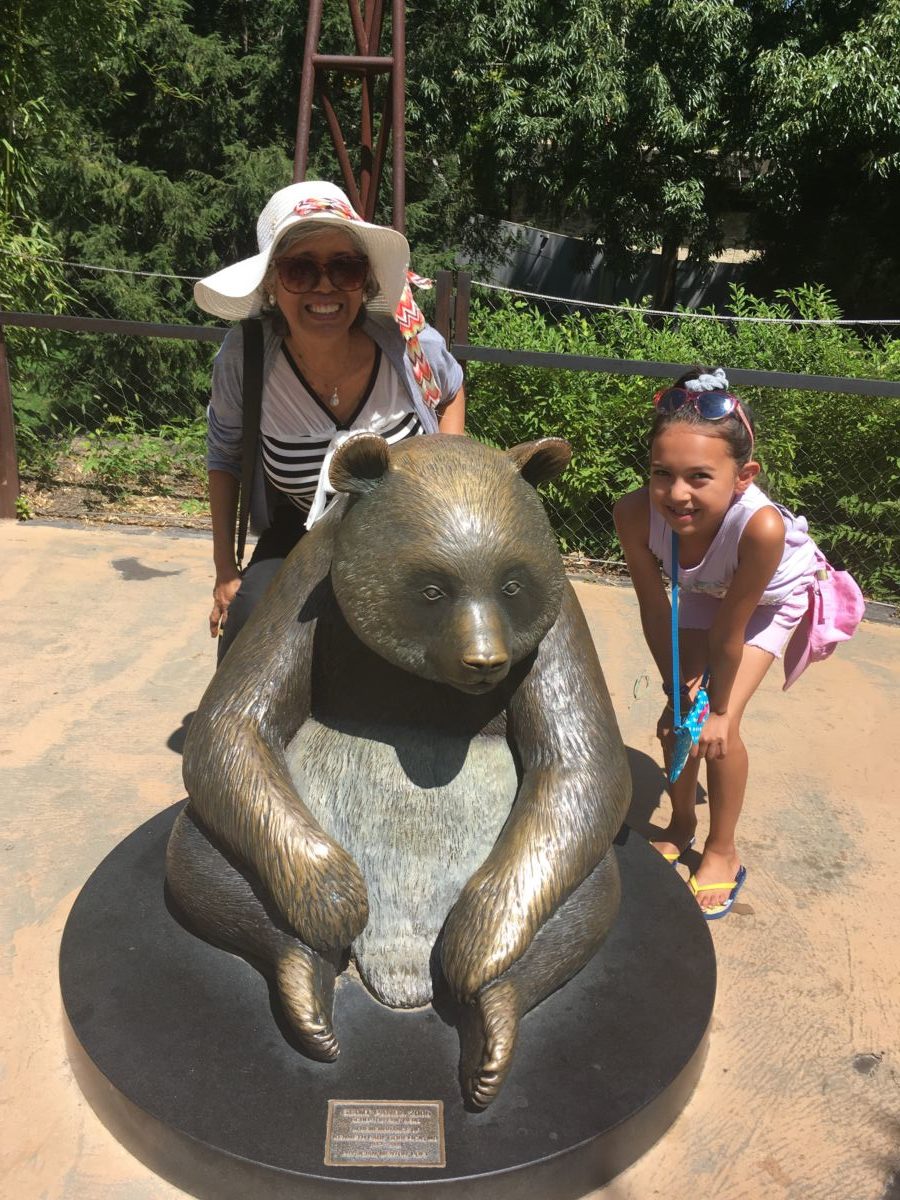 Monkey and Reptiles
As we continued our journey, we headed to the orangutan display and Kyle had a lot of fun. He loves animals and made his way up to the front where he was able to take a picture of the giant orangutan. Selfie everyone? Yes, my son allowed me to take a photo of him with the orangutan. Haha, it looks like the orangutan knows about selfies. Lol
Together we found some water shower on our way down which cooled us off from the heat.

We then went to the reptiles area. We saw snakes, a crocodile, turtles, frogs and more. Kyle had so much fun staring at the crocodile and the crocodile seemed to enjoy the eye to eye contact. Lol. Another stop was the snake section. We saw the Asian Cobra and another type of cobra who lives in another country. The Asian Cobra has a broader head compared to the other one. Kyle enjoys snakes. They are his favorite animals. That seems weird to me. I don't know why he loves them so much.
The kids saw a truck of Ben & Jerry's ice cream that costs an arm and a leg. Two scoops cost $3! We bought a total of 3 cups of ice cream for the kids to enjoy their favorite flavor. The third cup was for the adults to share. It was enough for us to have a taste and cool off a bit.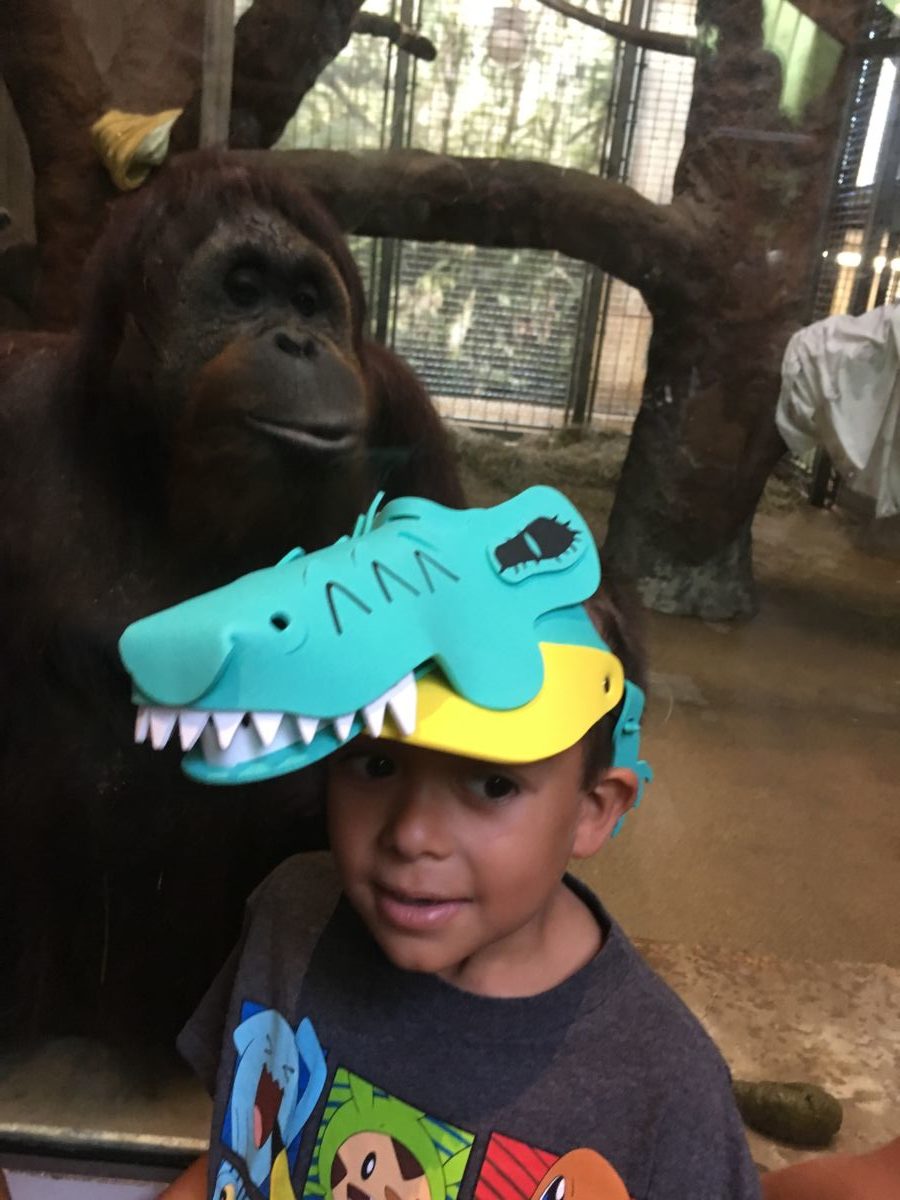 Cat Family
Finally, we headed to the area housing the cat family. First, we saw three tigers. We were lucky to see them stand up and show their heads together — marvelous! Behind the tigers, we saw the big lion. It was our first time to hear the lions roar. The sound is loud and deep enough for others to hear. It was a tremendous experience, but at the same time, a little bit scary.
Mama and I then headed to the bathrooms at the lower end of the zoo near the Mane and Grill pavilion. The bathroom is towards the back and beside it is another kids' play area. If it's a hot day, that play area is not the best place. Keira and Kyle skip it as they couldn't handle the heat at around 2:30 pm.
Across from that section of the zoo is a barn and pasture where you can see farm animals like cows and goats. We didn't go there as we were cooling off in the shade before heading out but I enjoyed watching other families visit that area.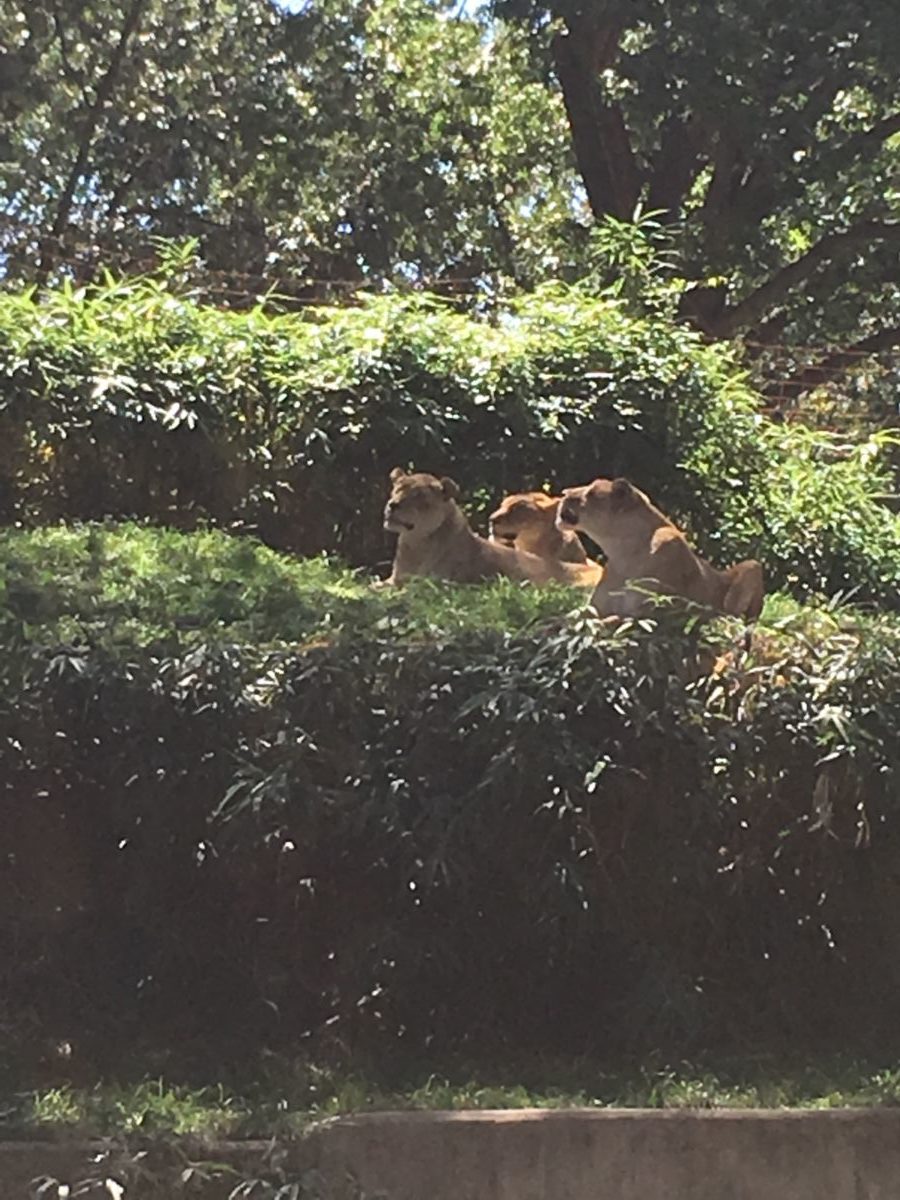 Parking
Park in the middle area parking C if you can. It is really helpful as you can start from the middle section and work towards where you want to go and it is easy to get back to your car when you leave the zoo.
Important Tips
Please arrive on time at the place where the zoo does meet and greet. You'll enjoy the show of the orangutan climbing from one post to the other.

In arriving early you'll be able to find a great parking spot. When we arrived at 10:00 am parking lot A was already full. However, I recommend parking in Lot C.

If you eat at the zoo, there are lots of choices in the middle area and also food available near the exit or bottom of the zoo. We decided to start our excursion at the top of the zoo which brought us to the middle part of the zoo and the food court at lunchtime.


There are many shady places in this zoo so you don't have to worry about bringing babies, toddlers and senior citizens to the zoo. They can easily find a place to rest if they need to.

Be sure to have water bottles with you so you can drink anytime you're thirsty.

We spent a total of six hours here, from 10:00 am to 4:00 pm. I suggest allocating a whole day here as there are lots of things to see.
Bonus
If you live further away from Washington, DC and are not traveling with a late-night owl, you can wake up early and start your day in the city proper walking around and taking photos of some of the city's landmarks.

You can add more things to see in Washington, DC after the Zoo.
Conclusion
To maximize your time here you need to have a plan on what you want to see at the zoo in order for you and your loved ones to save energy and time. The Smithsonian Zoo is a great place to visit when you are in Washington, DC. It is a budget, family-friendly place. There is no entrance fee. Parking is $20 for the whole day.
Other articles related to our road trip 2019
Disclaimer: Some links in this article are affiliate links, which means that if you purchase through them, I receive a small commission at no extra cost to you. This helps cover the cost of running this blog. Thanks for your support!