Short Noticed International Trips? Planning and Minimizing The Costs!
Disclaimer: This article may contain affiliate links which means we may receive a small commission for purchases made through these links.
Do you have a short noticed international trips within six months of notice? And it means you have to buy your plane tickets in less than two months?! It would happen to us, especially if you married someone who originally lives from another side of the world.
We get noticed around October, and we bought our plane ticket on New Year's Eve. I know, if only my husband will believe me sometimes, lol, so we could get a good deal. I started tracking the ticket price since the end of October, and if we were able to buy it around November, we could have purchased plane tickets for $200 less per person. For that amount multiplied for four people, we could have saved $800 for plane tickets, plus the route is still direct from JFK- HKG-CEB.

Planning and minimizing costs?
Car rental.

Drive to a bigger airport.

When you get within six months trip, start to look for plane tickets right away. Don't wait too long the faster you book, the better deals you get in terms of price and route.

Apply for a credit card that will give you money back if you used it in a certain amount within a specific time. Be sure to get a card that you can use international travel without letting you pay a foreign transaction fee. For us, we love the Capital One Quicksilver Card, Capital One Venture One Card, and or Capital One Venture Card.
Since we're not financially suitable for this trip, we rented a car for an overnight rental. We drove to my younger sister's house to celebrate my nephew's first birthday and spend the night there. It's a 4 hours drive from Rochester, New York and a two to three hours drive going to New York City Airport (JFK). We left at their house before noon, and the car needs to be in by 3:30 pm. It's beneficial that we rented one and returning it is easy pissy you have to drive back to where the car rental is and ride the train back to the airport. It took my hubby less than 20 minutes to drop us off at the airport, return the car to the rental service and ride the train back to where we are.
Why should you rent a car if you will travel longer?
In renting a car, it minimizes the hassle for looking at affordable parking.

It's cheaper this way than paying a higher price parking fee.

You don't have to worry if your car is safe where you leave it.

They are covered for AAA in case you get a breakdown.
Our flight is at 7: 00 pm from New York City and arriving in Vancouver, Canada at 12: 00 midnight. We decided to stay at the airport, and the four of us have a sound sleep in the waiting chair. I was anxious for this trip as my son can be picky, but I am glad he was fine and didn't bother him at all. If you have a long haul flight at this airport, you can have a sound sleep that was not bothered by the announcement at the airport it is hushed and peaceful. It's like we have the airport for ourselves, which is excellent!
What's the advantage of having a long haul flight?
It's relaxing, to be honest, you don't need to run around with your children at the airport trying to make it to the next flight.

You're enjoying your time with your family travel and not stressing out with your time.

Have more time to spend around the airport and getting familiarized with what kind of food they offered.

You are paying less for your plane tickets.
What's the disadvantage for a more extended layover?
The disadvantage for a more extended layover is that you have to spend a long time in an airport and not able to sleep in a comfortable bed.

It means you have more hours of travel time than spending it to the destination you wanted to visit.

If your travel days are shorter, the more extended layover isn't recommendable because you do spend more travel hours than enjoying the place you're visiting.
It's been nine years since my church wedding in the Philippines, and it's our first time to gather as a family for my younger brother wedding. It's a big deal for us plus my sister, and I never have a picture with our father since we're young and we have to make this trip possible to make this all happen for both of us and to our children.
This trip is different than other tours we made in visiting the Philippines, and it's like a dream come true for us to be able to see my father together again with our husband and children in tow. At least we're blessed to have this experienced even for once in our life, but hopefully, it will happen again.
I still manage to plan some small trips for us to see as a family and celebrate my husband birthday. My planned itinerary didn't go as I expected it because of the low pressure. But I'll still include the whole plan so in case some of you will be able to do it.
My husband total vacation time is only up to thirty days, and so it means limited vacation time for him. I have to insert our trip accordingly aside from visiting family and friends. We're so blessed to see the people together who helped us when we were younger.
Here is our planned itinerary in going to the Northern part of Cebu.
Day 1- Day 4
We rode an air-conditioned bus from the North bus terminal going to Hagnaya. The bus will drop you off where the boat is waiting you need to buy a ticket going to Malapascua Island. The ride takes about 20-25 minutes if the weather condition is reasonable.
Note:
The reason I picked Malapascua Island because you can visit Kalanggaman Island, which is part of Leyte for a day trip it takes 2 hours ride in visiting this island, and you can ride back to Malapascua. The price will be around 800 pesos or $16 for a group tour you can also opt to do a private tour if you're in a big group's prices depends on how you huggle the boatmen.

I planned to let my hubby experienced diving for his birthday as it is one of the best diving spots in Cebu province. Prices can vary on each company and how you huggle the price.
It never happens as I planned it, but we all still enjoy roaming around and wandering the island. The resort we stayed got to have a night band during my hubby birthday, so I got to ask them to sing a Happy Birthday for him.
Most of our visit there is just a relaxing type of trip as we weren't able to go anywhere, but we enjoy the beach and roaming around the island.
On our last day in Malapascua, we took the boat back to Hagnaya port, and from there I have to do last-minute helped from my friends trying to connect if anyone can drive us to Tabuelan. We were lucky that there is a van who slept there for a night and looking for an extra passenger trip nearby while waiting for his Japanese passengers.
The trip from Malapascua going to Maravilla Tabuelan took us around 2 hours total, and we paid less than 2, 000 pesos it's less than $50. It's a reasonable price, and the trip is smooth as the road is wide and all cement except for one small area that they are currently working on.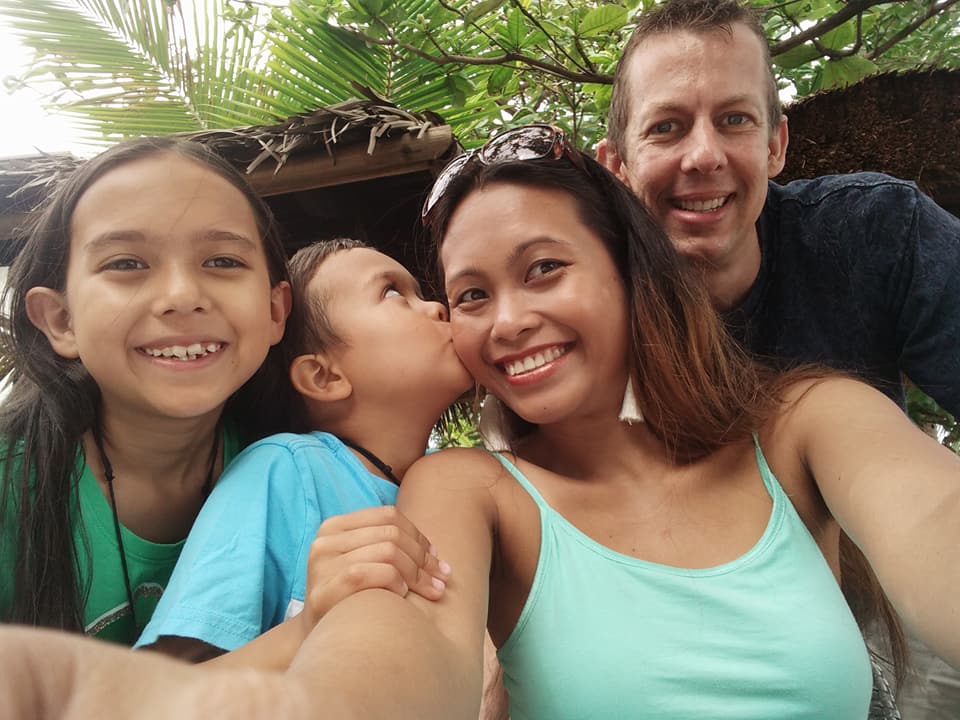 Day 4
We spent our night in Maravilla Tabuelan enjoying the beach and the beautiful sunset together with our family and friends.
Day 5
We woke up early and surprised our father for my younger sister birthday, and we then went to Bogo to eat breakfast in Jollibee, a favorite fast food place in the Philippines. It's only an hour away from Maravilla Tabuelan.
On our way back home we did arrange a lunch with the floating restaurant in the main town of Tabuelan. It's an excellent opportunity to experienced it and learned the mangroves, and the plants surround the river.
Tips:
You can always ask around for a motorbike ride going to Bogo price start at 30 pesos it is less than $1.

If you decide to include Maravilla Tabuelan in your itinerary, make sure you have a reservation ahead of time as they can be all fully booked in the area.

For the floating restaurant, they need a specific day to know your coming so they can prepare it. It's not like in Bohol that its already known and too many tourists flock the area every day. The price and the quality of the food you get are reasonable.

In going back to the city, you can choose to take the road in Sogod, or you'll do the Tuburan route. I love the Tuburan route if you leave early in Tabuelan you can make a stop to Busay area. I'll write another tip to the next article but here is my write up about Tabuelan Cebu.

If you can have seven days to roam around the northern side of Cebu would be great! I suggest visiting Maravilla for two nights if you wanted to relax and unwind its a beautiful, peaceful town with a great beach and the sunset is spectacular!
Other budget travel articles
How To Use And Maximize Your Miles For Your Travels With Venture Card?
Disclaimer: All ideas are mine based on our travel experienced. I recommend to check the prices and contact the Tourism office before your plan travel to make sure, prices can change drastically and it's better to be prepared.